Bali wedding planners take the hassle of handling all the details of organising a wedding in Bali, so you can enjoy your dream wedding day with ease. Some of the great five-star resorts on the island that offer dedicated wedding venues onsite together with a range of services may also include wedding planner services as part of their wonderful packages.However, you may also wish to seek a standalone wedding planner to tailor your specific needs and preferences.
Most Bali wedding planners offer a great range of services, from western and Balinese wedding styles, professional pre-wedding photo tour options, elegant decorations, bridal make-up and hairstyling, and festive services such as MCs or celebrants, live entertainment and other details to make your special day truly unforgettable. We've gathered a few of the well-known wedding planners in Bali, who can assist and construct your perfect wedding day.
Interested in this tour? Book it here.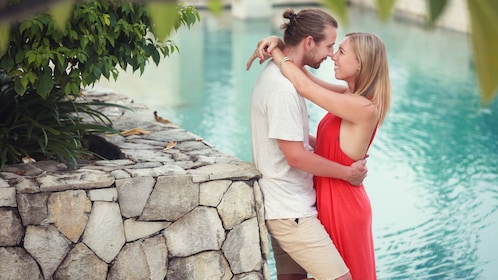 per traveler
Free cancellation
Book
This agency has over two decades of experience in Taiwan catering to international clients, and dubs itself as a 'one-stop wedding company in Bali'that helps couples, local and from abroad, to create their dream day in Bali. Its range of services includes legal and non-legal assistance for ceremonies, professional pre-wedding tours that take couples around the best spots on the island for memorable backdrops, as well as candid photo shots during the big day. It also provides elegant decorations and bridal services with a large inventory of gowns and groom suitsavailable. Their staff speak English, Mandarin and Indonesian.
Address: Jalan Bypass NgurahRai, KomplekPuri Alit No.1, Kuta
Tel: +62 (0)361 750 277
Established in 2000, Bali Exotic Wedding International assistscouples in planning their weddings in Bali, as well as anniversaries, receptions and private parties. Their team of professionals help prepare and coordinate minute details and every aspect of your big day. Their wedding packages on offer include commitment ceremonies, vow renewals, full legal weddings, and religious weddings (Balinese blessings, Buddhist, Catholic, Christian and Moslem). Other services include catering, entertainment, photo and video, floral arrangements, wedding cakes, dresses and full bridal services.
Address: JalanDewi Sri I No.2, Legian
Tel: +62 (0)361 895 772 0
As an event management company in Bali, Kana Group also provides one-stop wedding services; from tailored ceremonies and venue arrangements, cocktail receptions and dinners, and even honeymoon arrangements. Kana also offers quick or 'instant' wedding services where it answers to last minute requests, as couples may encounter last minute adjustments or simply for couples who had come to Bali merely for holidays then suddenly decide to get married here! They are able to provide a list of professional talents and vendors, from DJs, live musicians, fireworks, lighting and decoration specialists who add up to creating a memorable occasion.
Address: JalanCokroaminoto 200, Denpasar
Tel: +62 (0)361 743 074 3
This wedding planning and consulting service offers answers to all the details you may wish to know regarding your special day in Bali.Run by an international team of experts for over eight years, Bali Exclusive Wedding aims at creating truly unique ceremonies and receptions for its clients.Their services cover consultations on what your specific wants and needs are for your wedding day, such as venue arrangements, catering, decorations and floral arrangements, photo and video, bridal hair styling and makeup, wedding dress and groom suit preparations, entertainment during the ceremony, transport and accommodation.
Address: Jalan Dewi Sri, Kuta
Tel: +62 (0)361 754 370
Bali VIP Wedding takes the burden of planning all the fine details leading up to your wedding day, from venue and location to catering, entertainment and decoration and floral arrangements. They are dedicated in communicating and assisting couples with all kinds of requests, even after the wedding. Their team also provides partial planning, great for couples who have already started on planning their big day on their ownthen allowing them to select which additional services they need assistance with. This is very helpful in scenarios such as having selected a favourite venue, but need more help with specific vendors and other possibly overlooked details.
Address: Jalan Bypass NgurahRai No.349, Sanur
Tel: +62 (0)811 389 957
Rate This Place:
( votes)