Getting married in Bali is top consideration for many who have found the love of their lives and are looking for both an exotic and romantic setting to exchange vows. It is one of the world's best island destinations to tie the knot, with five-star resorts offering dedicated wedding venues to choose from. While mostly catering to western style weddings, you might also wish to get married in Balinese style, complete with a priest and full traditional costume.
You can opt to have a full legal ceremony, vow renewals, or perhaps just a celebrative follow-up occasion with all official proceedings already done in your home country. Here we present you with all the information, including some of the legal issues that you need to know for a wedding in Bali.
Also, check out our list of Bali's best wedding photographers and wedding planners in Bali to make your most cherished day come true.
Interested in this tour? Book it here.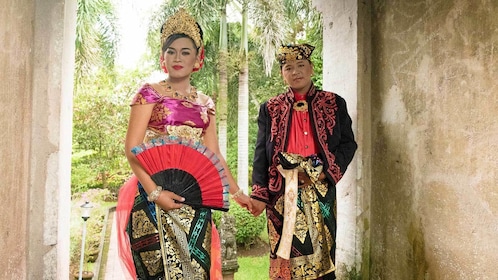 per traveler
Free cancellation
Book
Why get married in Bali?
Bali's exotic appeal owes much to its unique and vibrant culture, as well as its natural beauty, from sweeping mountain panoramas with stretches of rice paddies, to exotic sea temples bordered by rolling surf. With such gorgeous backdrops, why not make it the setting for your most cherished day? And it is no secret that hotels and resorts in Bali make very good use of their locations, be it beachfront or the central highlands, with the most memorable setups on offer.
Specially designed packages differ from one hotel to another, and different ways to celebrate also vary widely. Dedicated wedding venues include chapels and customizable outdoor venues with the most stunning backdrops. The weather in Bali, typified by sunny and tropical days, allows for great outdoor options as well, such as the seaside or a forested setting.
Best time to get married in Bali?
Unless you are planning for an indoor or ballroom ceremony that is virtually unaffected by the weather, you can consider the months between May and August, generally the drier season when your wedding ceremony can be most pleasant for and the bride or bridegroom, guests and the ensuing photos. It's when humidity levels are low, the skies are bluer and breezes are cooler (temperatures range between 26-27 degrees Celsius).
Morning weddings are usually around 10:00 to noon. For dramatic sunset wedding backdrops, arrange for shots between 18:15 and 18:45. Nevertheless, being in a monsoonal climate with somewhat unpredictable weather, rain is always a possibility. However, to some, rain can be considered a sign of good of luck and prosperity on your wedding day.
Western Style Weddings in Bali
Most of the five-star resorts in Bali offer Western-style wedding ceremonies, with a wide variety of tailored venues. The ceremony is led mostly by a celebrant, not necessarily an official priest, although you can arrange or request for one. Majestic chapels are usually the main venue of these resort weddings, and you can you may also arrange with wedding planners whether you prefer a male or female celebrant or official for your ceremony.
Besides dedicated chapels, setups also range from indoor ballroom options to the most exotic outdoor places, from cliff top edges to beachfront weddings on the sand, or floral aisles and altars against a leafy forest background.
What to Expect to Pay
With the abundance of wedding options and attractive packages provided by resorts in Bali, prices vary greatly. These many options are designed to suit all budget ranges, with tailored setups and details from catering, décor, live entertainment and inclusions such as honeymoon spa treatments and romantic dining offers. Their team of onsite wedding specialists are ready to suggest and adjust specifically for you – from a mini and private wedding with non-staying guests at around only IDR 1,500,000 to a more extravagant five-star setup with all the tidings and services (sometimes with accommodation included) at USD 10,000.
Catholic Weddings in Bali
The Indonesian Catholic Church does not allow weddings outside the church. International couples by Indonesian law are required to register, with some paperwork, and have a civil celebrant and a priest officiate at the wedding ceremony – at a catholic church. The Catholic Church also prohibits divorcees to remarry. One of the great catholic churches in Bali to contact is the Lady of All Nations (Maria Bunda Segala Bangsa) church at the Puja Mandala complex in Nusa Dua (+62 (0)361 279 2522)).
You can indeed always do the official and religious part of your wedding in your home country, and then have your non-legal blessing ceremony in Bali with a non-official celebrant.
Legal Marriages and Wedding Legality Issues in Bali
Most wedding planners in Bali are able to assist with legal paperwork relating to marriages in Bali. First stop should be your embassy or consulate, which can help issue a Letter of No Impediment to Marriage. This letter officially signifies that you are single or not under wedlock and may proceed to be newly married. As a religious country, Indonesia's law recognises a marriage to be legit only if it has been carried out according to the guidelines of the respective religions of the bride and groom. Indonesian law applies a minimum age restriction for marriage: not less than 16 years for women, and 19 for men.
While Muslim marriages are registered at an Islamic religious affairs office known as 'KUA', the Indonesian Civil Registry Office or 'Kantor Pencatatan Sipil' recognises Hindu, Buddhist, Christian-Protestant and Catholic only, and couples must be of the same religion to be legally registered. This office then issues a 'Notice of Intention to Marry'; and once all these are lodged, you may proceed to have your wedding ceremony. Marriage certificates are produced within a ten-day waiting period, and your embassy may assist on the recognition of your Bali wedding in your home country.
Rate This Place:
( votes)