The Agung Rai Museum of Art (ARMA) is part of a gallery, cultural centre and accommodation venture in Pengosekan, Ubud, owned and founded by Balinese entrepreneur and art collector, Anak Agung Gde Rai. The museum features two main large buildings filled with exhibits displaying a large collection of artworks. The museum is located in Pengosekan, approximately 3km south of the main Ubud hub and 25km north of Denpasar.
Agung Rai Museum of Art covers a sprawling 5Ha. It was the brainchild of collector Anak Agung Gde Rai who put great attention to the preservation and promotion of arts. The museum was inaugurated by the Ministry of Culture and Education in 1996 and managed by the ARMA Foundation, established the same year.
Interested in this tour? Book it here.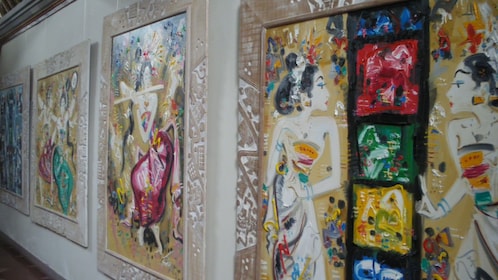 per traveler
Free cancellation
Book
Agung Rai Museum of Art features traditional Balinese architecture and is surrounded by tropical gardens. Among the notable works in its collections are pieces by late Indonesian artists Raden Saleh and Affandi, and legendary painters Walter Spies, Rudolf Bonnet and Adrian Le Mayeur. Local Balinese masterpieces include those by Balinese painter Nyoman Lempad, as well as classical Kamasan-style and Batuan-style paintings originating from their respective villages/regions.

ARMA is not just about its vast art collection; it is a place where visitors can learn much about Balinese traditions and cultural aspects. Traditional Balinese gamelan orchestras, woodcarvings, Balinese dance and history, indigenous fabrics, and traditional cuisine are all bonus highlights here. Visitors to the museum complex can enjoy interactivity led by a guide. Exhibitions are regularly held, presenting legendary masterpieces as well as promoting young, upcoming and potential artists.
Good to Know about Agung Rai Museum of Art
A good time to visit this museum is during the afternoon when, after viewing the art collections, visitors can enjoy snacks or dinner at a cafe located within the museum area or watch traditional dance performances regularly scheduled at the museum complex.

Live Balinese dance performances usually commence Monday to Friday 15:00 – 17:00; and Sunday 10:30 – 12:00, with varying gamelan orchestral sessions. The ARMA open stage is the common venue for these scheduled performances where visiting Indonesian and international art troupes also frequently perform.

Art workshops available at ARMA range from Balinese painting lectures, painting classes, traditional gamelan music workshops, to traditional dance, woodcarving and batik courses.
Agung Rai Museum of Art
Opening Hours: 09:00 – 18:00
Location: Jalan Raya Pengosekan, Ubud
Tel: +62(0)361 976 659
Rate This Place:
( votes)