These must-see temples in Ubud offer you a glimpse into historical Bali with ancient reliefs and classical Balinese temple architecture. They also serve as cool retreats or brief stopovers along your leisure walks through town. Some are located and easily accessible as among Ubud's central landmarks, while others around the neighbouring villages of Tegallalang and Tampaksiring are hidden within mountain valleys, adding a bit of mystery to your adventures in this cultural heartland of Bali.
Here we bring you five of the most beautiful temples to see and visit in and around Ubud, which offer you a fun day out sightseeing, photographing and even selfie-taking. Just remember to not only get your camera and spare memory cards ready, but also to wear a customary sarong and sash around your waist whenever visiting any temple in Bali. Also, consider yourself lucky whenever a colourful procession or temple anniversary ceremony is underway during your visit!
Interested in this tour? Book it here.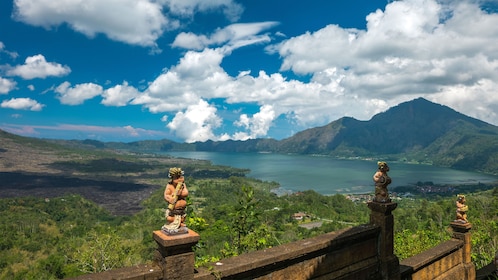 per traveler
Free cancellation
Book
This beautiful temple complex and holy mountain spring is also a national cultural heritage site. If you ask a local, they'll tell you that it also serves as a legendary setting for the traditional tale of 'Dharma' (good) against 'Adharma' (evil). Historically, the 10th century Tirta Empul temple is silent witness to the old Balinese kingdom years, particularly the Warmadewa Dynasty. The main highlight here is its collection of freshwater pools, lined with over a dozen fountains where pilgrims wade through and seek spiritual purification by ritually praying and going under each fountain in succession. On the hills nearby is the presidential palace of Istana Tampaksiring. Read More...
Location: Manukaya village, Tampaksiring, Gianyar
Don't let this temple's name mislead you. Often translated as 'Elephant Cave', Goa Gajah doesn't have any pachyderms roaming its grounds. This archaeological site is some six kilometres from the Ubud hub, and welcomes you to a relic-filled valley with its centrepiece bathing pool, temple complex and the ornately carved stone cave, which was formerly a meditation site for Buddhist and Shivaite priests. The 11th century site was excavated in 1954, and you can peek inside the shallow cave to find stone idols and indentations that serve as seats for meditating priests. If you have the time, you can venture further south of the complex to a rainforest trail with many other relics scattered along the Petanu River. Read More...
Location: Bedulu Village, Jalan Raya Goa Gajah, Blahbatuh, Gianyar
This unique temple hidden in the Pakerisan River valley, several minutes' transfer north from the Tirta Empul Empul and half an hour from the main Ubud hub, is a significant archaeological site in Bali, which welcomes you to a collection of ancient shrine reliefs carved into the face of a rock cliff. Nearby is a more contemporary temple complex. The temple is reachable from a starting point lined with art shops and rice fields, down a 300-step descent. Legend goes that these stone shrines are memorials to the deified Balinese King Udayana and his royal family. Read More...
Location: Tampaksiring, northeast of Ubud
Locally referred to as Pura Tirta Dawa Gunung Kawi Sebatu, this is a beautiful water temple that boasts an impressive set of bathing and purification pools fed by a freshwater spring. Although one of the least visited temples in Ubud, a day trip here lets you enjoy a very quiet and serene highland atmosphere, with maintained gardens and well-manicured lawns where fowls roam free. Several large garden ponds are filled with carp (fish food sold onsite) and blooming lotuses, while the sanctified inner pools are sources of holy water and places for purification rituals. Tickets are IDR 15,000 for adults and half for children. Read More...
Location: Sebatu Village, Tegallalang, Gianyar
You can make a brief stopover at this beautiful temple along your leisure walks through the main hub of Ubud town. Pura Taman Saraswati boasts classical Balinese architecture and is surrounded by blooming lotuses in ponds. The water temple is accessible right in from the Jalan Kajeng side street, just off the main Jalan Raya Ubud road. Alternatively, you can also opt for a table in the evenings at Café Lotus, to enjoy the best views to the temple's open stage, where regular traditional Balinese dance performances are held to accompany your dinner. Visiting the temple by day lets you admire sandstone bas reliefs honouring the Hindu goddess Saraswati up close. Read More...
Location: Jalan Raya Ubud, Ubud
Rate This Place:
( votes)