Bali Seawalker is an underwater activity that offers everyone an opportunity to enjoy an underwater experience with the minimum of equipment. The 'walks' utilize a specially-designed helmet that is connected to oxygen tanks aboard a boat, providing participants with a constant flow of air to breathe underwater.
Participants with prescription lenses need not take their glasses off to enjoy the activity due to the convenient helmets, and will remain dry from the chin up throughout the tour. Depths are approximately seven metres, where you will soon be able to observe colourful schools of fish, coral reefs and marine life. Bali Seawalker operates at two main sites; off Sanur and Tanjung Benoa.
Interested in this tour? Book it here.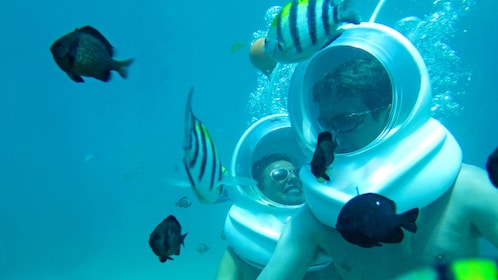 per traveler
Free cancellation
Book
Highlights and Features of Bali Seawalker
The underwater tours take approximately 30 minutes, and the standard package usually includes hotel transfers for a minimum of two persons, refreshments and soft drinks, Seawalker gear, Japanese standard safety equipment, certified and experienced guides and insurance coverage.
The Seawalker tours can be enjoyed by all ages from 10 years up. No diving experience or swimming skills are necessary. The tour is an eye-opener for those with no prior underwater experience, and it also provides participants the opportunity to interact with marine life.
It is an extraordinary approach that makes it easy to discover the underwater realm without having to deal with bulky diving gear. Guides provide full instructions before setting out to sea and taking the plunge.
Upon arriving at the sea walking spot, participants lower themselves down a side ladder and guides help put on the special shoulder padding and helmets. Soon after reaching the bottom, beautiful reef formations and varieties of tropical fish become visible. On certain occasions, large swarms of fish gather and even obstruct views due to their large numbers.
Good to Know about Bali Seawalker
No prior diving training or experience is required to participate in the sea walks. Many of Seawalker's customers do not know how to swim, and most have their first experience in the ocean through the activity.
Participants of the Seawalker are recommended to bring their own swimsuit, sunscreen and underwater camera although underwater pictures are taken by the guides and can be purchased separately. Guests with heart or lung problems, those who are on medication, with asthma or other respiratory ailments, and pregnant women are not allowed to participate.
Bali Seawalker
Location: Sekar Menuh Building, Jalan Bypass Ngurah Rai No.5, Padanggalak, Sanur
Tel: +62 (0)361 281 408
Rate This Place:
( votes)