The Bali Marine Walk takes place west of Lembongan Island, approximately 30km southeast of the Bali mainland. The tour takes you four to six metres underwater, as you wear specially designed helmets that allow you to remain submerged – a fun alternative for those who don't dive.
Bali Marine Walk is a great underwater activity for divers and non-divers alike, as it provides a different perspective and experience to diving. Walking on the ocean bed, a site specifically selected clear enough for walking but surrounded by reef brimming with diverse marine life, marine walkers get to view and interact with colourful schools of fish and marine life.
Interested in this tour? Book it here.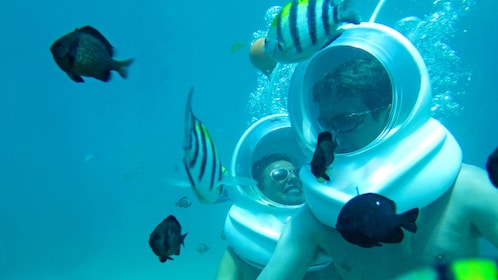 per traveler
Free cancellation
Book
Participants step down from the ladders at the side of the boat and, once waist-high in the water, don special helmets. Diving guides lead the walkers to the main underwater gardens and the beautiful reefs and colourful corals come into view.
Around four to six metres below sea level, visibility is great. Soon the guides hand out fish food in bottles which can be squeezed to expel the contents and schools of fish of different colours and types flock around, surrounding the walkers as guides take pictures for keepsakes. This high level of interactivity is one of the main highlights of Bali Marine Walk.
Day package options include hotel transfers, boat transfers, welcome drinks, the marine walk, snorkelling, village cycling tours or beach kayaking, an Indonesian lunch, free underwater photos, locker, towel, shower and changing room facilities and insurance coverage.
Good to know about Bali Marine Walk
Bali Marine Walk tour starts off at Sanur's Sindhu beach, and a boat speeds you to Lembongan in approximately 30 minutes. Arriving at the white sands of Lembongan, the Bali Marine Walk features 'all-inclusive activities' such as bicycles that can be taken on free tours around the small island; a restaurant onsite serves Indonesian cuisine for lunch.
The helmets used in the tours have cushioned rims that rest comfortably over your shoulders and is connected via hoses to scuba tanks aboard the boat, supplying a constant flow of air to the marine walkers below. The helmet's interior is equipped with a defogging system via vents at the back that constantly expel excess air and humidity, guaranteeing clear visibility.
Marine walkers remain underwater for 15 minutes. After the underwater walks, guests return to the island for various activities, including a seaweed farm and village tour to see the unique traditional fishing village life of the Lembongan people.
Bali Marine Walk
Address: Bali Marine Walk, Dunkin' Donuts Building, 2nd Floor, Jalan Bypass Ngurah Rai, Sanur.
Tel: +62 (0)361 282 654
Rate This Place:
( votes)