Getting to Yogyakarta from Bali can be a great addition to your holiday plan, especially if you're looking to discover more of Indonesia's multi-coloured variety in heritage arts and culture beyond Bali. This town's one of Indonesia's two special regions (known as a 'Daerah Istimewa') and it's the country's only semi-autonomous area, home to the royal palace of the Hamengkubuwono sultanate, known as the Keraton. You'll encounter many historical attractions around the hub alone, from 18th century palaces and royal complexes, to numerous museums and heritage trails.
Yogyakarta simply attacks your senses with its unique sights, together with sounds of classical Javanese gamelan, as well as local flavours. Out of town, highlights also worth discovering include ancient Hindu temple complexes and the world's largest Buddhist temple, Borobudur. As one of Indonesia's foodie havens, 'Jogja' features countless roadside food vendors selling heritage cuisine, light bites and its famous traditional herbal concoctions, day and night. Check out how to get to Yogyakarta from Bali, including tips on where to stay and what to see there.
Interested in this tour? Book it here.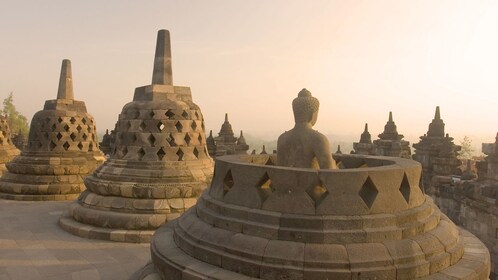 per traveler
Free cancellation
Book
How to Get to Yogyakarta from Bali
There are two main options for getting from Bali to Yogyakarta. The fastest and most convenient is by plane, and you can get there by land via East Java, with a crossing between Gilimanuk harbour at the tip of West Bali and Ketapang Harbor in Banyuwangi, East Java.
By Air
Yogyakarta's Adisucipto International Airport (JOG), is around 9km east of the town hub, or within a half-hour shuttle transfer. The airport mostly serves domestic airliners, while also serving international flights by Garuda Indonesia and Air Asia.
A flight from Bali's Ngurah Rai International Airport (DPS) to Yogyakarta Adisucipto International Airport (JOG) is an approximate 90-minute flight (be sure to check-in an hour prior your scheduled boarding time).
Airliners regularly flying directly to Yogyakarta from Bali include:
Garuda Indonesia (GA), Indonesia's national and international carrier, with its Boeing 737-800, 156-seater twinjets. Ticket prices are from around US$60.
Lion Air (JT) with its fleet of Boeing 737-900s. Ticket prices are from around US$40.
Sriwijaya Air or Nam Air (IN), a domestic commuter passenger carrier with a fleet of Boeing 737-500s. Tickets are from around US$80.
Indonesia Air Asia X (XT), an extension of Air Asia services, with its fleet of Airbus A320s. Airfares are from US$35.
There are several options for getting out of the airport:
Your booked hotel pickup and transfer services. Check with your hotel regarding any shuttle transfer services on offer, which can be a convenient part of your trip.
Trans Jogja, Yogyakarta's affordable busway or 'bus rapid transit' system, operates within town through a total of 17 lines, and has a bus stop at Adisucipto Airport. Single-trip fares are from Rp 3,600 or less than a dollar.
Airport Taxis. Fixed rate to the town hub is around Rp 50,000 or US$ 4.
Metered Taxis, such as Bluebird, are not allowed to pick up passengers within the airport grounds. They can be flagged down outside the airport, with fares to the town hub around 25% cheaper than the airport taxi rates. You'd usually need to walk outside the airport to be able to flag one down.
Public DAMRI Buses. If you wish, you can go straight to Borobudur from the airport by bus using these hourly, 21-seater, air-conditioned public service buses. However, you'd need to wait for the buses to fill up before they depart. Rates are from Rp 50,000 or US$ 4.
By Land (with a Bali Strait ferry crossing)
If you're travelling with time to spare, you can get to Yogyakarta from Bali by land, with daily ferry crossings between the seaports of West Bali's Gilimanuk and East Java's Ketapang, across the Bali Strait. Getting to Gilimanuk from the main southern beach resort areas such as Kuta and Seminyak is an approximate 3 to 4-hour drive, depending on traffic. The ferry crossing is another 30-minutes. Then, the subsequent drive to Yogyakarta is a 14.5-hour overland drive via Java's north coast or Pantura, which is short for 'Pantai Utara'. Several bus operators, such as Gunung Harta and Wisata Komodo, depart daily between 11:30 and 15:00 from the Ubung bus terminal in West Denpasar. Bus rides usually take up to 17 hours; fares are from IDR 260,000 (USD 20) per passenger.
Rate This Place:
( votes)