The Amala is a great option for those looking for a villa retreat with an emphasis on wellbeing, and centrally located in Bali's upscale beach resort area. The resort features a variety of intimate villas that come in choices of one to three bedrooms. Besides pool villas, specially designed spa villas offer 120sqm of living space, with private plunge pool with water jets, and a steam shower that you can scent up with selections of herbs.
However, the main highlight of The Amala in Seminyak is its full array of wellness activities that you can enjoy even if you're not staying here as a villa guest. Pampering spa options at The Amala Spa range from 90-minute sessions that combine Asian inspired therapeutic methods with western holistic approaches: muscle kneading using essential oils and acupressure is concluded by a purification ritual, meant to open your senses using a Tibetan singing bowl.
Interested in this tour? Book it here.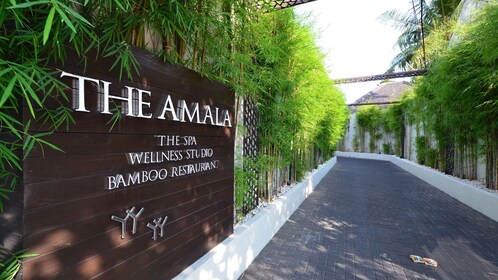 per traveler
Free cancellation
Book
Meanwhile, at the Amala's holistic wellness studio, you can opt to join yoga classes, designed to bring balance and alignment between your body and mind. Professional instructors guide you through a series of meditative and revitalizing postures, before you find serenity by the pool in a quiet bamboo Zen garden. Or, for something 'low impact' yet 'high-energy', Pilates is a great option that helps you find balance while also strengthening your core. There's even private water Pilates classes that add gentle resistance to your workouts!
The Amala in Seminyak
Location: Jalan Kunti 108, Seminyak
Tel: +62 (0)361 738 866
More to discover in this hotel! Take a look...
The Amala
The Amala is located right in the centre of Seminyak.It is just a 15 minute drive away from NgurahRai International Airport and the staff at the hotel provides free airport shuttle services for its guests.The design of every villa combines French elements of decor with modern, contemporary ones.There are 12 villas that have non-smoking rooms, a private pool and a patio.Its key location allows guests to enjoy the nightlife, the quaint cafes, the shopping centre and the beach.Guests do not even have to drive to reach these locations; they are within walking distance.Every room has cable TV, DVD players, iPod docking systems, spacious bathrooms with hand-made bath soaps and guests can enjoy the 24 hour room service provided by the staff. Read More...
Rate This Place:
( votes)