Sidemen Village is East Bali's panoramic answer to the more famous Jatiluwih rice terraces in West Bali. Here you'll find a rural countryside down the southern hillsides of Bali's tallest mountain, Mount Agung. Swathes of paddies and plantations in the village's countryside are tended by their respective farming communities. The village area is a main destination for day trips through the eastern region. It's where you can find a 'real Bali' scene that offers both beautiful Bali rice paddy landscapes and interesting cultural highlights.
Interested in this tour? Book it here.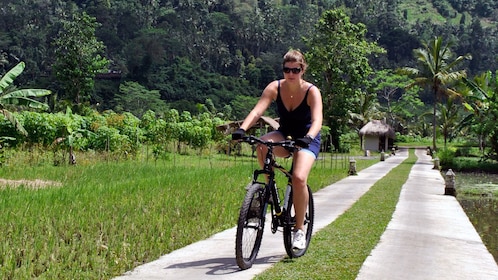 per traveler
Free cancellation
Book
Rice Fields and Crafts of Sidemen Village
The scenic and traditional Sidemen Village is between the Klungkung and Besakih Temple route. It's usually an included stop on sightseeing journeys to the East Bali region. From Ubud, it's roughly a two-hour drive. The main highlights are its expanses of rice fields, with many available tours offering nature and paddy treks. These offer you an immersive experience, often traversing local plantations and crossing rivers. You can also enjoy a leisurely bicycle tour through the relatively downhill routes of the village (see above).
Sidemen village is also known among Balinese locals as the top producer of traditional palm toddy called 'tuak'. The product is also often further refined into 'arak' palm wine. Cottage industries producing the beverage are widespread throughout the village.
A great souvenir to take home from Sidemen is the villagers' traditional dye weavings. These are known as 'songket' and 'endek'. The heritage textiles are praised for their intricate motifs and use of colourful hand-loomed cotton or silk threads. Silk items are naturally on the higher side of the price range. They sometimes reach up to IDR 2 million or USD 160 a length. Both the cloth and a large print of this picture-postcard rice paddy landscape can be perfect mementos of your time in Bali.
Recommended Hotel Nearby
Samanvaya
Samanvaya, with only six lodges,has an enviable location on the upper slopes of the rice terraces in the Sidemen Valley.The infinity swimming pool takes full advantage of the breathtaking views.For those guests wanting something slightly less energetic, then relax in the adjacent Jacuzzi whilst still enjoying the stunning vistas.In the Pavilion, we invite you to enjoy breakfast in the restaurant or for lunch, snacks or dinner, savour the delicious Balinese and International cuisine that is served, a menu unique to Sidemen.For a touch of romance, why not dine on the poolside terrace by candlelight? Read More...
Rate This Place:
( votes)