These 5 must-see art galleries in Ubud will surely please the art lover in you. Each is home to vast collections of some of the rarest and most prized artworks by late Balinese and Indonesian artists. Others include contemporary works in their collection, as part of their mission to showcase emerging talents within the local art communities. Most of these art galleries are self-labelled as 'museums', partly due to their conservatory nature.
While you will find no shortage of art shops, galleries and museums in the artistic and cultural heartland that is Ubud, we've picked only the prominent, must-see art galleries in Ubud that also happen to be landmarks of the area. Each boasts impressive Balinese architecture and gardens, some filled with installation art. Step inside, and you'll enter a world of vivid paintings, intricate woodcarvings, rare textiles and all kinds of curios – some on sale strictly for serious collectors!
Interested in this tour? Book it here.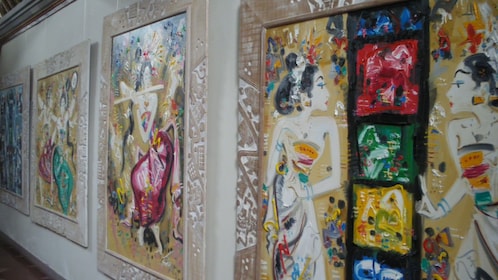 per traveler
Free cancellation
Book
This art museum is one of Ubud's landmarks, located on a hilltop right near the iconic bridge of Campuhan, just a minute's drive west of Ubud central. The Blanco Renaissance Museum is the house and studio of the late flamboyant Philippine-born maestro, Don Antonio Blanco and houses his paintings, collages and illustrated poetry, together with lithographic artworks of his favourite subject: nude Balinese women. If you're not admiring the regal interiors and collection of nude art in the separate galleries inside, you can take in the impressive architecture, well-manicured gardens and lush settings outside. Tickets are only IDR 50,000 (USD 3.70). Read More...
Opening Hours: Mon-Sun, 09:00 – 17:00
Location: Jalan Campuhan, Ubud
Tel: +62 (0)361 975 502
Neka Art Museum is one of Ubud's pioneering art museums, established in 1976 by Balinese art lover Wayan Suteja Neka. On some occasions, you'll probably bump into him on site during your visit, and he'll even be happy to show you around his favourite collections. His museum houses a growing collection of classical Balinese paintings and sculptures displayed throughout six different Balinese-style pavilions. One of his must-see favourites comprises traditional Balinese 'kris' daggers. Neka himself hails from a generation of the Balinese 'pande' clan of smiths, who created such weapons. The other exhibits will keep you busy with their variations on Balinese paintings, with exhibits spanning classical to contemporary. Admissions are IDR 50,000 for adults and children under 12 enter free. Read More...
Opening Hours: Mon – Sat 09:00 – 17:00; Sun 12:00 – 17:00
Location: Jalan Raya Camphuan, Kedewatan, Ubud
Tel: +62 (0)361 975 074
The Agung Rai Museum of Art (often abbreviated as 'ARMA') is an art gallery, cultural centre and resort owned and founded by namesake Balinese entrepreneur and art collector, Anak Agung Gde Rai. The museum features two large main buildings filled with a large collection of artworks. The museum is located in Pengosekan, approximately 3km south of the main Ubud hub and 25km north of Denpasar. The collection spans notable works by late Indonesian artists Raden Saleh and Affandi, legendary painters Walter Spies, Rudolf Bonnet and Adrian Le Mayeur, and local Balinese masterpieces by maestro Nyoman Lempad. Read More...
Opening Hours: 09:00 – 18:00
Location: Jalan Raya Pengosekan, Ubud
Tel: +62(0)361 976 659
Part of the string of landmarks in central Ubud, this museum is a convenient stopover on your walks along the main Jalan Raya Ubud street. Founded by Rudolf Bonnet and Cokorda Gde Agung Sukawati, Ubud's Museum Puri Lukisan is a great place to discover the colourful variety of Balinese paintings from the turn of the century, covering all schools of Balinese art. Inside, you'll admire the over 150 fine paintings and 62 sculpture pieces in permanent exhibits. Museum Puri Lukisan is within walking distance from the Puri Saren Royal Palace and Ubud Art Market, and 40km north from Kuta. A restaurant and café is onsite, overlooking its spacious gardens and lotus pond. Read More...
Opening Hours: 09:00 – 18:00
Location: Jalan Raya Ubud, Ubud
Tel: +62 (0)361 975 136
Discover a vast collection of fine arts at Museum Rudana, which adjoins the Rudana Fine Art Gallery in the village of Peliatan, a short transfer south of Ubud central. Established in 1995 by namesake Balinese avid art collector Nyoman Rudana, the museum houses his fine favourites, which comprise classical Ubud and Batuan-style paintings. The first and second floors showcase modern Indonesian fine arts, with the works of famous artists such as Affandi, Gunarsa and Made Wianta. Also featured are pieces by young talented artists, as well as several great artworks of the late Don Antonio Blanco. Read More...
Opening Hours: 09:00 – 17:00
Location: Jalan Cok Rai Pudak no. 44, Peliatan, Ubud
Tel: +62 (0)361 975 779
Rate This Place:
( votes)