Museum Rudana is one of the more contemporary art galleries that you can visit around Ubud. Established in 1995 by avid art collector Nyoman Rudana and his wife, the museum now houses a vast collection of works by famous Balinese, Indonesian and international painters. Most of his personal favourites include pieces in the classical Ubud and Batuan styles, with depictions of rural life, natural landscapes and cultural activities.
Visitors to Museum Rudana are welcomed to expansive green gardens and private rice fields that are a pleasure to ramble through. Even the lawns are home to installations comprising elephant sculptures. Inside, exhibits are spread over three levels, with the first and second floors showcasing the works of famous names such as the late Indonesian expressionist Affandi, and prolific contemporary Balinese artists Wayan Gunarsa and Made Wianta.
Also inside are collections featuring some of the great artworks of late Don Antonio Blanco, who has his own grand gallery near Campuhan, together with a dedicated gallery displaying the works of young and emerging artists. Regular exhibitions are held throughout the year, featuring new artists, in a mission to further boost the already thriving local art scene.
Tune in around August - coinciding with the nation's Independence Day - for commemorative art events, as well as The Ksatria Seni Awards in recognition of artists for their contribution towards the development of Indonesian arts. Admission is IDR 100,000 (USD 8) for adults. Some of the paintings are for sale at negotiable prices.
Interested in this tour? Book it here.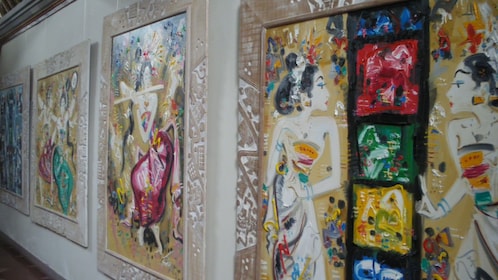 per traveler
Free cancellation
Book
Museum Rudana
Opening Hours: 09:00 – 05:00
Location: Jalan Cok Rai Pudak no. 44, Peliatan, Ubud
Tel: +62 (0)361 975 779
Rate This Place:
( votes)