The Legong Dance is one of Bali's most visually alluring royal court performances. The dance is also considered one of the island's most revered classical pieces, known for its physically demanding postures and fast-paced movements which require a significant level of flexibility among its generally young female performers. Choreographed to a set pattern with the finest detail, the dance has been well-preserved through generations.
Locals refer to the performance as 'Legong Kraton', which loosely translates as 'the dance of the royal palace'. Legong used to only be shown within closed palace walls and in front of the royal family. Now, you can watch it performed at open stages and shows throughout the island, such as at the Ubud Royal Palace.
Interested in this tour? Book it here.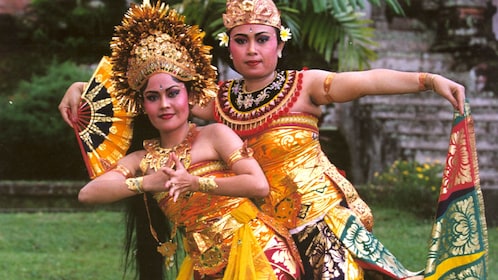 per adult
Free cancellation
Book
Features of the Legong
Back in the day, any young girl assigned the task of learning the dance – and eventually performing it in the palace – would be highly honoured. The Legong depicts angels divinely dancing in the heavens, and is visually distinctive through the performers' iconic costumes, which comprise a golden floral headdress of considerable size and weight, along with complete regalia from shoulders to feet. Trained dancers carry out movements effortlessly, despite the bulk of their outfits.
The classical performance showcases the agility of the dancers, who move dynamically to live accompaniment of a gamelan orchestra. Today, there are several artistic variations of the Legong Dance, found throughout the different regions in Bali, such as in the village of Saba and Bedulu in the Gianyar regency, and Kelandis in the central Bali highlands.
Some popular places with open stages that show the dance for visitors regularly in and around Ubud include Ubud Royal Palace, Agung Rai Museum of Art (ARMA), the Puri Agung Peliatan palace and the Taman Saraswati Temple.
Rate This Place:
( votes)