The Candi Kuning Market, which locals refer to as Pasar Merta Sari Candi Kuning, or simply 'Pasar Bedugul', is one of two main markets in the Bedugul area. Candi Kuning Market mostly boasts local farm produce, such as flowers and a wide range of tropical fruits (mangosteen, bananas, tamarillos, tangerines and, most importantly, strawberries – the prize produce of Bedugul.
Being a market targeted at travellers, you'll find souvenirs in the form of generic and kitsch arts and crafts at stalls further inside. Nevertheless, it's a great place to find a local market scene, with the rule of thumb being (as always): bargain hard! Even the locals do it. A large packet of strawberries - around half a kilo - starts from IDR 25,000 (around USD 1.80). For a simple and very local snack, try some crackers, boiled peanuts or steamed sweetcorn (around IDR 5,000 a cob) sold by peddlers at the roadside. Locals find it an obligatory stop for stocking up on snacks for their ride.
Interested in this tour? Book it here.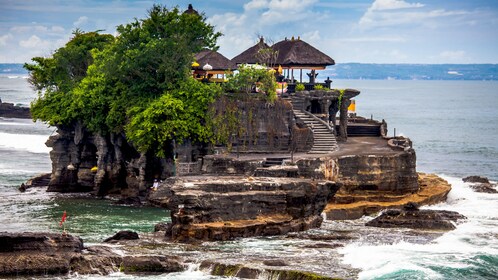 per traveler
Free cancellation
Book
This central farmer's is conveniently located halfway along the western side of the Baturiti-Singaraja route, and between two of Bedugul's landmark attractions, namely the Beratan Lake with its iconic Ulun Danu Beratan lakeside temple, and the Eka Karya Botanic Gardens. Candi Kuning serves as a great stopover for refreshments in between your tours of Bali's central region, or en route to the main destinations in North Bali, such as Lovina Beach, via the central highlands.
Candi Kuning Market
Opening Hours: 08:00-20:00
Location: Jalan Kebun Raya Bedugul, Candi Kuning, Bedugul, Tabanan
Rate This Place:
( votes)