Getting to Banyuwangi from Bali is easy, thanks to public ferries that cross the Bali Strait daily from Gilimanuk port, on Bali's north-west, to Ketapang Harbour across the strait on East Java. The town and surrounding region of Banyuwangi offers a wide spectrum of attractions that make it a great additional destination to your Bali trip. You'll need to spare a half day to get there from Kuta, and several days to enjoy most that it offers.
Here's how to get to Banyuwangi from Bali, including information on where to stay, what to see and do there.
Interested in this tour? Book it here.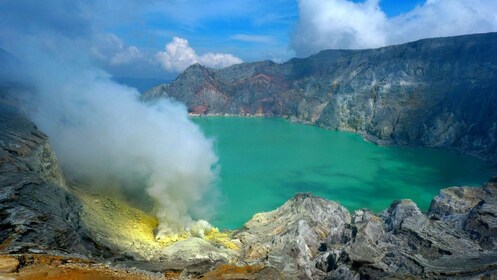 per traveler
Free cancellation
Book
How to Get to Banyuwangi, East Java from Bali
While you can get into Banyuwangi by plane, there are no direct flights from Bali's Ngurah Rai International Airport (DPS) to Banyuwangi's Blimbingsari Airport (BWX). Most domestic airlines, such as Garuda Indonesia, Batik Air, Lion Air and Sriwijaya Air, fly from Bali to East Java's capital of Surabaya first as transit point, then into Banyuwangi. This is not very convenient when compared to the conventional way of driving overland to Gilimanuk Port in West Bali (4-5 hours), then crossing to Ketapang Harbour by sea.
Ferries, referred to locally as Kapal Motor Penumpang (KMP) or 'motorized passenger vessels', depart daily, with fares starting from IDR 6,500 (less than a dollar) per passenger, or from IDR 159,000 (USD 12) per car. The lines of queuing vehicles may be extremely long over the weekends and during holidays such as the lead up to Ramadan, so it's good to plan ahead to avoid such periods. Crossing over the Bali Strait itself takes around 45 minutes, and unlike the Lombok Strait on the other side of the island, Bali Strait's wave conditions are relatively calm throughout the year.
Assuming you're travelling by car, exiting the ferry at Banyuwangi's Ketapang Harbour is straightforward; you simply navigate your way to your hotel or destination. (For convenient travel, you can consider the tour packages to Banyuwangi available above)
Rate This Place:
( votes)