The Balinese cooking class at The Amala is a great option if you're up for some learning fun in local culinary arts while in Seminyak. The class is one of the great activities that both in-house and outside guests can experience at the resort. Classes are held at the resort's Bamboo Restaurant, and are conducted by resident Balinese chef Wayan Putra who's passionate about his island's heritage cuisine, and keen on sharing the secrets and techniques. Unlike other cooking classes, it doesn't include trips to a fresh market – you simply put on an apron and get straight into cooking.
Interested in this tour? Book it here.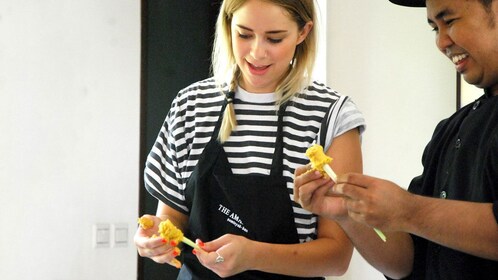 per traveler
Free cancellation
Book
A Typical Balinese Cooking Class at The Amala
There are morning and afternoon classes available. After donning your aprons at Bamboo, get acquainted with Chef Wayan as he tells his culinary stories while introducing you to the colourful variety of spices, vegetables, meats and fish that goes into authentic Balinese cuisine. There are 2 separate menus comprising 3 different dishes, as well as a special menu for vegetarians. Selections include the Balinese lawar (a salad mix of green beans, fresh coconut and chicken), tum ikan (banana leaf-wrapped steamed fish), the ever-so popular Balinese 'wrap-style' tuna satay, and desserts.
At the end of your session, and depending on which class time you joined, you'll enjoy your own creations either for lunch or dinner, as well as ceremoniously receive a certificate, presented by Chef Wayan. As memento, you will also get to keep your Amala apron, so you can relive the fun when you get home and try up the recipes in your own kitchen. Classes are available 7 days a week, and run for 2 hours, with a minimum of 2 participants per class.
More to discover in this hotel! Take a look...
The Amala
The Amala is located right in the centre of Seminyak.It is just a 15 minute drive away from NgurahRai International Airport and the staff at the hotel provides free airport shuttle services for its guests.The design of every villa combines French elements of decor with modern, contemporary ones.There are 12 villas that have non-smoking rooms, a private pool and a patio.Its key location allows guests to enjoy the nightlife, the quaint cafes, the shopping centre and the beach.Guests do not even have to drive to reach these locations; they are within walking distance.Every room has cable TV, DVD players, iPod docking systems, spacious bathrooms with hand-made bath soaps and guests can enjoy the 24 hour room service provided by the staff. Read More...
Balinese Cooking Class at The Amala
Opening Hours: 11:00-18:00
Location: The Amala, Jalan Kunti I, Seminyak
Rate This Place:
( votes)