Bali Canyon Tubing takes you on a unique ride down a small stream within a rainforest ravine up in the lush central Bali highlands of Payangan. What sets it apart from regular rafting, such as along Ubud's Ayung River, is that you get to ride in your own personal inflatable raft. No paddles are involved – you just strap on a helmet and life vest, and let the steady currents take you on an adventure.
The river mentioned is the Siap stream, a small course that starts in the village of Kerta in the idyllic and rural Balinese farming neighbourhood of Payangan, a short distance north of the main Ubud hub. Along the way, you'll enjoy the cool mountain air combined with natural scenes, all while drifting some 40km downstream in your 'tube'. At certain points along the course, however, be ready for some thrills as some rocky plunges add to the excitement.
Interested in this tour? Book it here.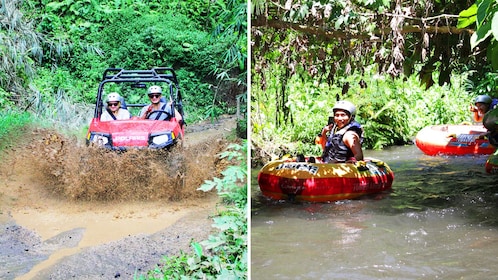 per adult
Free cancellation
Book
The rainforests of Payangan are home to many different species of tropical plants, exotic birds and animals. Consider yourself lucky if you get to spot a group of grey long-tailed macaques playing in the trees, or a kingfisher swooping down upon a fish several metres in front of you. Well-trained guides accompany you on the ride, and may even tell you about the interesting aspects into the flora and fauna, as well as local culture.
Before escorting you along the way, the guides will brief you on the lowdown and safety instructions, and will assist you with all the equipment, all of which meets international safety standards. Bali Canyon Tubing is an adventure tour operated by Bali Quad Adventures, and combined adventure packages are available. Canyon tubing tours start from USD 89 for adults and USD 59 for kids, while combined quad tours are USD 169 for adults and USD 99 for kids.
Rate This Place:
( votes)