Bali Bike Park is a large purpose-built arena in the village of Pancasari in North Bali, which features a variety of trails for mountain bikers. Available trails include Cross-country, Downhill and Enduro, which are suitable for both adults and children. You can choose a trail of your choice and cycle around while enjoying great views, meet locals, exercise, and end your day with some local food and a swim in the ocean.
Interested in this tour? Book it here.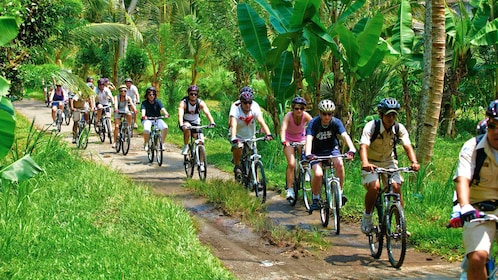 per traveler
Free cancellation
Book
Bali Bike Park provides all of the necessary equipment and information to give you a thrilling experience. They rent you professional mountain bikes that are maintained daily by mechanics, together with safety gear and maps of the trails. They will even join you as your guide, if you want. To enter the park, you pay an entrance fee of IDR 775,000 (US$ 58), to rent a bike and gear, it's IDR IDR 225,000 (USD 18) for children and 450,000 (USD 34) for grown-ups.
You can choose from three different trail levels in the park: beginner, intermediate and advanced. These are designated into coloured categories, so you have two blue lines suitable for introduction lessons and training; four red lines with berms, roots and jumps of all kinds; and two black lines with steep downhill sections, big roots and big jumps.
Bali Bike Park
Opening Hours: Mon - Sat : 08:00 - 14:00
Location: Jalan Dasong, Banjar Yeh Mas, Banyuning, Pancasari, Buleleng, North Bali
Tel: +62 (0)811 399 7906
Website: http://www.facebook.com/BaliBikePark
Rate This Place:
( votes)