Bajra Sandhi Monument is a major landmark in Denpasar, set right in the centre of the Renon Square (otherwise locally referred to simply as, 'Puputan Renon'). The site is adjacent the Bali Governor's office, and is hard to miss with its grand structure that resembles a Balinese Hindu priest's praying bell, or 'bajra'. Inside the base is a museum that displays various historical dioramas of the people's past struggle for Independence.
Interested in this tour? Book it here.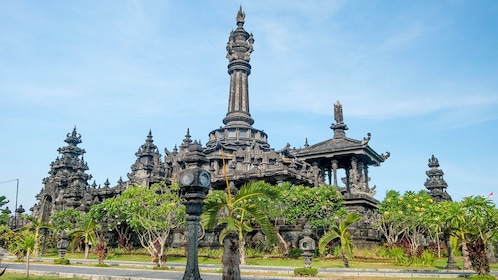 per traveler
Free cancellation
Book
There are three floors inside. The ground level lets you admire the typical Balinese architectural features applied to the overall structure, while the second floor is where most of the diagrams and dioramas that depict the Balinese people's pre-history and history are shown. The last upper level provides you with soaring views over the green square and Denpasar's cityscape afield. Most recently in August 2016, the ground space was turned into the IAM Bali Interactive 3D trick art museum space, full of fun murals that are great for fun pics.
The monument itself sits on a 4,900sqm plot within the vast 14.4Ha grounds of flat green lawns, gardens and palms of the square. Denpasar residents visit the square in droves over the weekends, particularly during the 'car-free' Sundays that enables joggers and cyclists to best enjoy the surrounds of the public space. Constructed in 1981 and opened in 2003, the Bajra Sandhi Monument is a popular itinerary that is almost always featured on Denpasar city tours.
Bajra Sandhi Monument
Opening Hours: 08:00 – 18:00
Location: Jalan Raya Puputan, Niti Mandala Renon, East Denpasar, Denpasar
Tel: +62 (0)361 264 517
Rate This Place:
( votes)