The best yoga retreats in Bali live up to an increasingly popular trend. They promote healthy living and wellbeing. Bali is often considered a 'wellbeing destination'. It attracts people from the world over for its exotic locations and calming natural settings. The island also offers an abundance of traditional spas and holistic centres. The central highland destination of Ubud is usually considered a Bali yoga hub in its own way. However, you can also find some of the best retreats elsewhere on the island.
Bali has a growing yoga community. It even sparked its own annual festival. Bali yoga gatherings attract yogis, yoginis and spirituality seekers from around the globe. Also often featured are dancers and musicians, with concerts and side events. As it promotes positive living and a healthy mind and body, anyone can pick up yoga. Start off with these selections of the best yoga retreats on the island. All allow you to combine leisure travel with healthy living.
Interested in this tour? Book it here.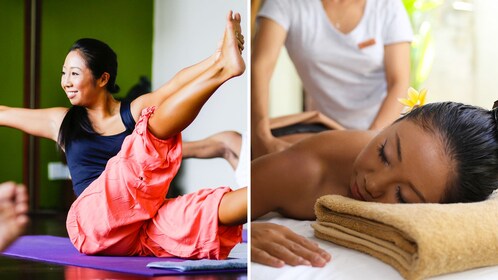 per traveler
Free cancellation
Book
This five-star resort boasts impressive natural architecture. With striking bamboo and thatched roofing, it is surrounded by rice fields and forested hills. Signature holistic Balinese-inspired retreats are led by local and international yoga masters. They're available in choices of 3 to up to 21 nights. These can include yoga and meditation sessions and healing consultations. Also featured are massage treatments, healing energy and water healing sessions. Sometimes, beauty rituals and even a Balinese blessing ceremony are among the highlights. Fivelements' cuisine promotes healthy diet through all organic dishes. Read More...
Location: Banjar Baturning, Mambal, Abiansemal, Badung
Tel: +62 (0)361 469 260
This is a flagship retreat of Como Shambhala worldwide. The estate is up in the tranquil valley of the Payangan village, half an hour's drive north of main Ubud central. The resort promotes long stays combined with wellbeing programmes. They usually include sessions with resident yoga teachers, Ayurvedic doctors and dieticians. Wellness programs vary throughout the year. They're normally week-long courses that involve different disciplines of yoga, meditation and coaching. You can make use of the holistic approach with signature spa and beauty treatments during your stay. There's also a full-fledged gym facility onsite. The cuisine is carefully prepared, well balanced nutritionally and presented in five-star fashion. A daily schedule of activities includes healing and restorative yoga sessions. Sessions are held at its dedicated 'bale' pavilion overlooking the lush valley. Read More...
Location: Banjar Begawan, Desa Melinggih Kelod, Payangan
Tel: +62 (0)361 978 888
For a holistic retreat up north, Zen Resort is the only of its kind near the remote coast of Singaraja. The resort provides individual yoga exercise classes. These can also be tailored to specific health conditions. Examples include alleviating digestive problems, blood sugar levels and diabetes and weight problems. You may also overcome backaches, blood pressure, anxiety and stress. Signature programmes come in choices of 3 to 21 nights. These include traditional spa treatments, sunrise meditations and wellness consultations. There's also an option of dolphin watching tours at sunrise. 'Sunrise' villas offer king or twin beds with views over the pool and the calm waves of North Bali. Read More...
Location: Ume Anyar Village, Seririt, Singaraja, North Bali
Bagus Jati is one of the island's renowned health and wellbeing retreats. It makes good use of its location in Tegallalang. This village area north of Ubud is famous for its picturesque rice terraces. A dedicated circular yoga pavilion serves as the resort's centrepiece. Yoga and ayurvedic packages let you spend between three or seven nights up in these highlands. This includes daily morning yoga classes and an additional private hour session. It also includes ayurvedic rejuvenation spa treatments and daily healthy set meals. You'll also find organic gardens onsite at the resort. From here, the restaurant sources its fresh, natural ingredients to complement the full range of nutritional, detox and anti-aging programmes. Read More...
Location: Banjar Jati, Desa Sebatu, Tegallalang, Ubud
Tel: +62 (0)361 901 888
The Yoga Barn is the main yoga centre in central Ubud. It offers classes for all levels, including private classes, short-break yoga retreats and meditation classes. The Barn has five open-air studios. Two host daily classes, with a capacity of 80 and 35 students respectively. There are over 100 classes on offer per week. Studio spaces are set amidst terraced rice paddies in Ubud. These offer a sanctuary for those looking for a suitable place to relax and practise yoga. Retreats include 3-day cleansing, 7-day residential detox, and Ayurvedic rejuvenation. These are available all year round. The Yoga Barn founders are also responsible for the Bali Spirit Festival. This annual event in Ubud presents a week of yoga workshops and dance and music. Read More...
Location: Jalan Hanoman, Padang Tegal, Ubud
Tel: +62 (0)361 970 992
6
Desa Seni Yoga Retreat
Canggu
This unique 'village resort' in Canggu features a collection of wooden Javanese 'joglo' houses. These form some of its accommodation options. Antique styled structures feature throughout its grounds, resembling a quaint small hamlet. Its main yoga pavilion holds regular programmes catering to all levels. A qualified international team of instructors lead the regular classes. It has its own organic green garden, and an onsite kitchen that serves healthy menus. After each yoga sessions, participants relax with a refreshing glass of lemongrass tea. Desa Seni's 'School of Yoga' offers a selection of all inclusive personal yoga retreat programmes. These include therapeutic yoga, Kundalini, Tantra yoga and others.
Location: Jalan Subak Sari 13, Berawa Beach, Canggu
Tel: +62 (0)361 844 639 2
7
Sukhavati Ayurvedic Retreat
Mengwi
Sukhavati Ayurvedic Retreat and Spa is in the rural village of Abianbase. The resort overlooks the rice paddies, several kilometres north of Denpasar. The resort specialises in Ayurvedic healing therapies. It's where you can incorporate daily yoga sessions into your staying experience. Retreats include single-day, to intensive 10 day 'revive' options. These comprise Ayurvedic treatments tailored by a resident master. Twice daily yoga sessions and Ayurvedic facials and foot massages are also included. The estate's eight thatched roof luxury and private pool villas feature a saltwater pool. An open-air dining pavilion and a riverside deck with daybeds offer soothing settings. Enjoy spa treatments at the River Spa, complemented by soothing sounds of the flowing Penet River.
Location: Banjar Bebengan, Tangeb, Abianbase, Mengwi, Badung
Tel: +62 (0)361 900 612 8
One World Retreats offers individual and group journeys. The programmes feature a combination of yoga, meditation and spa retreat highlights. The resort is on the main Ubud central road of Jalan Suweta. It also offers off-the-beaten-track excursions. Their yearly schedules are well laid out, with week-long retreat programmes featured monthly. One is 'discovery journeys'. These are designed for anyone desiring to practice daily meditation and soft yoga. Such journeys are great to incorporate into your unique and relaxing Balinese vacation. It also includes village cycling excursions. You can even join an exotic purification ritual at the Tirta Empul Temple in Tegallalang. Retreat leaders and yoga instructors comprise of Balinese and international guest practitioners.
Location: Kumara Sakti, Jalan Suweta, Ubud
Tel: +62 (0)361 289 752
Floating Leaf is located along the south-eastern coast of Pantai Purnama in Gianyar. It's an innovative eco retreat that welcomes groups, couples and individuals. The resort offers a full range of yoga programmes and spa services with traditional Balinese healing treatments. Healthy dining options are also included. Expert-curated retreat programmes and guided experiences range from yoga, arts and culture, to even surfing. An open-air yoga sanctuary offers views over the black sand coastline, with Mount Agung in the distance. The resort also has its own organic permaculture garden. From here, some of the ingredients make healthy meals, juices and snacks. Read More...
Location: Jalan Pantai Purnama 42, Sukawati, Gianyar
Tel: +62 (0)811 380 202
10
Kura Kura Yoga Retreats Bali
Munggu
This resort is near a small river and right on the black sand beachfront of Seseh on Bali's south-western coastline. Kura Kura Yoga Retreat offers an exotic and secluded place to spend your holidays in Bali. You can do so while discovering yoga at the same time. The heart of the resort is a yoga shala that overlooks a small pool. Most of its guests are lone travellers who prefer a peaceful stay. The shala also serves as a community space where you can meet like-minded travellers. A retreat calendar is well mapped out. It features an international line-up of yoga teachers and hosts. Yoga, meditation, and even year-end teacher training events for yoga instructors are covered. A 10-day retreat includes long mornings beginning with meditation, chanting and pranayama breathing exercises. Shorter afternoon sessions focus on restorative yoga forms and discussions.
Location: Jalan Raya Seseh, Banjar Seseh, Munggu Village, Badung
Tel: +62 (0)361 848 305 3
Rate This Place:
( votes)