Watching a Bali dance show is one of the best ways to experience the island's unique heritage. Art is everywhere, from the intricate flower decorations in a Barong dancer's headdress to elaborately carved temple facades and beautiful oil paintings.
Music and dance play a huge part in significant rituals and religious ceremonies in Bali. Known as "the Island of the Gods", hardly a day goes by without a religious ceremony or festival taking place. Several cultural landmarks and concert halls host traditional dances with full gamelan orchestras. Here are some of the most popular cultural shows in Bali.
Interested in this tour? Book it here.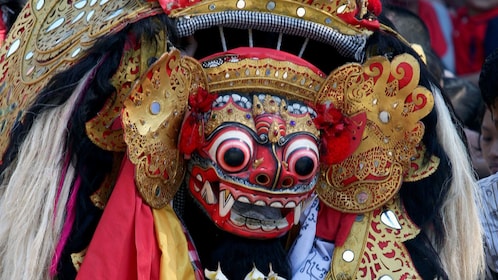 per adult
Free cancellation
Book
Barong dance
The Barong is a triumphant display of graceful movement and vibrant colour. The dance is basically a contest between good and evil, involving the opposing forces of Rangda – chaos and destruction, and Barong – order.
Performances
Barong Suwung: Daily at 9am
Barong Seniman: Daily at 9.30am
Puri Saren Agung (Ubud Royal Palace): Fridays at 6.30pm
Padang Tegal: Tuesday–Wednesday and Saturday–Sunday at 7pm
Kecak dance
Kecak is a ritual dance dating back to the early 1930s – it was created for the film Island of the Demons by German painter and intellectual, Walter Spies. This dance is unique in that it has no other musical background or accompaniment, besides the chanting of its 100 bare-chested male dancers. It combines the chorus of the "Sanghyang" trance dance with an episode in the Ramayana epic.
Performances
Werdhi Budaya Art Centre: Daily at 6.30pm
Uluwatu Temple: Daily from 6pm to 7.30pm
Legong dance
The Legong is a visually alluring royal court performance in Bali. The show features physically demanding postures and fast-paced movements that require a significant level of flexibility. Young female performers wear a golden floral headdress of considerable size and weight, along with complete regalia from shoulders to feet. The dance is choreographed to the finest detail with a strict pattern that doesn't allow for improvisation.
Performances
Balerung Mandera Srinertya Waditra: Tuesday at 7.30pm and Friday at 7.30pm
Puri Saren Agung (Ubud Royal Palace): Daily at 7.30pm
Pura Dalem Puri Peliatan: Tuesday and Saturday at 7.30pm
Shadow puppets (wayang kulit)
Wayang kulit is an Indonesian shadow puppet play that uses intricate gilded leather puppets with traditional musicians. While only the puppets' shadows are seen by the audience, the fascinating performances are full of symbolism and mysticism. A single, highly skilled puppeteer controls hundreds of puppets, playing out the roles of different characters with a different voice for each character. Stories told through shadows are often about the spirit world. You can also watch wayang kulit plays of the Mahabarata and Rama epics.
Performances
Pondok Bambu Wayang Kulit: Monday and Thursday at 8pm
Oka Kartini: Wednesday, Friday and Sunday at 8pm
Rate This Place:
( votes)