Our 10 best things to do on the Gili Islands includes a selection of great activities that you can partake in over the course of your retreat on these three closely-knit islands north of Lombok. Considered the best alternative island escape that visitors to Bali can include on their holiday itinerary, the Gilis offer a range of action and adventure.
Underneath the waves are among the best diving spots comprising tropical coral gardens teeming with biodiversity. The small islands are girt by azure waters, making for wonderful snorkelling too. Coastal beauty is complemented by stretches of white sand and white coral sand. There are also great things to do overland. Enjoy these selections of the 10 best things to do on the Gilis, and get more out of your island escape!
Interested in this tour? Book it here.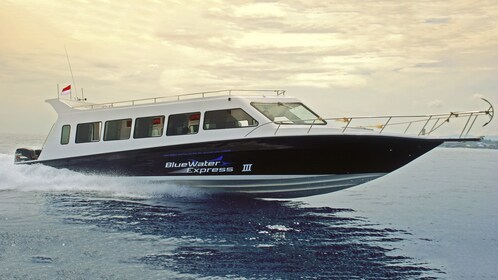 per adult
Free cancellation
Book
Upon landing on the shores of Trawangan, you're immediately welcomed by the row of beach bars and restaurants. These venues light up the coast through late hours with regular party gigs with live reggae bands, and some feature DJs pumping out groovy beats. Bars serve great cocktails to match the scene, and occasional fire dancers on the sand add to the nightly spectaculars. Some venues even feature fireworks regularly, topping the revelling mood that this 'party island' has to offer.
The waters are dotted with premier dive sites, drawing divers from all around the world to its crystal clear waters thriving with marine life and offering wonderful visibility all year-round. International dive operators dot every coastline offering charter trips and PADI-certified courses for almost every level. There are around 19 dive sites; popular ones go by the names of Shark Point, Manta Point, Meno Wall, Bounty Wreck, and one is a bio-rock project zone.
An easier option for enjoying the underwater beauty of the Gilis is by mere snorkel and fin, which are also widely available for rent from local stalls that dot the coastlines. The waters around the islands are shallow, and occasional sightings of sea turtles roaming freely will be an added bonus. You can easily stroll down along most of the main beaches away from the boat docks, where the vast blue waters are all yours.
The Gilis offer some great paddle-out action and wave riding, with reef breaks available. The southwest coasts of Gili Trawangan and Gili Air has a good collection of year-round breaks, with nice swells in the dry season. If you didn't bring your board, rentals are nor hard to find. Gili Meno features lesser swells, however on its day, less crowded means you get all of the playground for yourself. Meno is only a short island-hop boat trip from Trawangan and Air.
Gili Trawangan is the only island among the Gilis with a hill that you can climb up to discover a couple of great finds. Firstly, a mysterious shrine sits adjacent a Muslim burial site, then further up is the crumbling remnants of a WWII Japanese machinegun bunker. And upon reaching the top, you will claim your prize of a birds' eye-view of the surrounding waters and the majestic outlines of Mount Rinjani on the neighbouring island of Lombok. Sunset or sunrise really offers the jackpot.
There are sea turtle conservation sites at Gili Trawangan and Gili Meno, where you can adopt for a hatchling to be released out into the sea. Species include green and loggerhead turtles. The largest sanctuary is on Trawangan, with different pool pens containing sea turtles of different ages, and informative posters on their life stages. Additionally, Gili Meno has a small bird park home to a variety of species, including a croc and fat Komodo dragon.
7
Ride a horse, or a cidomo
You can alternatively circumnavigate the islands on Lombok's traditional horse-driven cart, locally known as cidomo. While the Balinese dokar version uses large round wooden wheels, these wooden carts feature car wheels/tyres. For only IDR 50,000-125,000, which you can share among two to four passengers depending on the deal, you can whiz through on an island tour with ease. Or, you can go horseback – there are many stables available offering riding tours.
8
Cycle around the island!
Circumnavigation around either Gili is possible. With lengths of passably paved roads around most of the borders, what better or more convenient way to go around than by bike? There's an abundance of bicycles available for rent. The most developed of the three islands is Gili Trawangan, with only a short length of unpaved roads on its north-western shore. Nevertheless, bikes with special fat beach tyres make cycling over sand a breeze.
While on holiday, why not learn a bit about the local tastes and exotic cuisine. After all, it's as exciting as learning a new language! There are several notable cooking classes on Trawangan, such as the Sweet & Spicy Gili Cooking School, which is part of Egoiste beachfront restaurant and barbecue and Little Italy pizza, helmed by exec-chef Patrick Oppermann. Classes are daily, and led by experienced Indonesian chefs, with meals included, obviously.
When you've had your rounds of adventures in the Gilis, be it below the waves or back from admiring the hilltop views, you'll need to relieve those muscles a bit. Great spas line the main south-eastern beach road on Trawangan, some featuring wonderful treatment beds facing the open ocean. Traditional massages and essential oils are reminiscent of what you would find in Bali. Open-air reflexology centres with soft sofas are also easy to find along the beach walks. Simply step in to have your soothing fix!
Rate This Place:
( votes)