Nusa Penida is the largest in the group of three islands that lie within a half-hour transfer by motorboat southeast of the Bali mainland. This popular dive site is one of the few dive spots in Bali where you can witness some of the world's rarest pelagic species, ranging from manta rays, the mysterious oceanic sunfish (sometimes referred to as 'mola-mola') and occasional whale sharks as well.
There are several bays in Nusa Penida that are good for snorkelling, but most of its open waters directly face the open Indian Ocean, with strong currents making them strictly for advanced divers only. Here, you can expect a good mix of colourful reefs with frogfish, seahorses and nudibranchs, and waters further out are playgrounds for experienced divers who must navigate strong currents.
Interested in this tour? Book it here.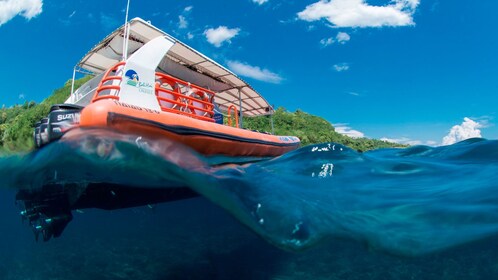 per adult
Free cancellation
Book
Among the favourite dive spots in Penida is Crystal Bay, which often offers superb visibility, sometimes down to 30m, and is just a short journey from the Coco Resort Penida - one of the very few resorts on the island. Another popular spot is Manta Point, near the island's southernmost coast. Its name is self-explanatory. You'll get to see these graceful rays on almost every trip, together with spotted stingrays and nurse sharks.
While its sister islands of Nusa Lembongan and Nusa Ceningan are better developed resort areas that are popular among short day-trippers and weekenders, Penida offers rugged landscape and waters that are dotted with fantastic dive spots. Best time to go is usually between August and October, when visibility can be an excellent 20m deep. Most trips depart from dive resorts on Nusa Lembongan, or from the coasts of Sanur and Padang Bai on the Bali mainland.
Rate This Place:
( votes)